Background
As a Psychotherapist:
I received my MA in Counseling Psychology from Columbia University and my MSW from Fordham University. I have worked with young people and adults struggling with substance abuse and trauma, connected with physical, emotional and sexual abuse. I have also spent many years at out-patient mental health clinics addressing the needs of clients with a broad range of other emotional issues.
My approach includes psychodynamic (connecting the painful past with current problems) cognitive (helping clients reframe their negative beliefs about themselves and situations) and a solution focused therapy, at all times building on the unique strengths of each client. I am also a practitioner of Eye Movement Desensitization Reprocessing (EMDR) a technique designed to alleviate PTSD  by safely accessing and reprocessing critical memories.
I am currently in private practice in Red Hook, New York.
As a Writer:
For the last 20 years I have been a writer, early on authoring fiction and non fiction books for young teens. Since then I have written many books and articles on topics ranging from children's fears during divorce, teens who diet dangerously, and the trials of single parenting to how not to raise an entitled child, online dating and advice for kids on how to handle tough school situations, such as: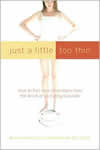 View some of my published books —
I have also edited more than 50 books in the areas of self-help, pop-psychology and child development, all produced by my packaging company, Skylight Press.